…
Nuovo album, nuovi commenti. A parte i soli errori e paragoni inopportuni con altri artisti o dischi del passato, le recensioni e i voti ci incuriosiscono sempre, anche se lasciano il tempo che trovano. A noi il disco piace ed anche tanto. La presenza dei NPG Hornz rende tutto più armonico portando HITnRUN Phase Two ad un livello superiore non solo nei confronti del precedente, ma di tutta la discografia di Prince di questi ultimi anni. Attendiamo i prossimi Phases sperando nella teoria del … quattro!
….
HITNRUN PHASE TWO
Prince – NPG Record (CD)
Voto Rockol: 3.5 / 5
Una buona notizia: il nuovo album "a sorpresa" di Prince è decisamente meglio del precedente. Una notizia prevedibile: il nuovo album di Prince non è un capolavoro.
"HitNRun phase two", reso disponibile sabato 12 dicembre, non arriva del tutto a sorpresa. Il disco uscito a settembre portava già la dicitura "Volume one" e una fumosa risposta via tweet ad un fan nei giorni scorsi dichiarava "La Warner ha già il volume due: fate una petizione per chiedergli di pubblicarlo". Fumosa, perché non è chiaro cosa c'entri la Warner: l'album poi è stato pubblicato in esclusiva su Tidal dove lo si può comprare solo in bundle con il primo volume a 15€.
Come il precedente, la fase due del disco è un ibrido di pezzi "vecchi", già pubblicati come singoli, e nuovi: "Xtraloveable" risale addirittura al 2011, "Rock and roll love affair" al 2012, "Screwdriver" al 2013, "Baltimore" e "Stare" al 2015. "2 Y. 2 D", "Groovy potential" e "Big city" sono state incise nel 2013.
"HitNRun" è, per certi versi, l'"High hopes" di Prince, ma senza il Tom Morello della situazione. Come Springsteen, Prince è un mostro dal vivo, ha una valanga di inediti e idee nel cassetto, ma fatica a produrre album di studio che siano all'altezza della sua storia. "High hopes" era un album nato in tour, sfruttando e valorizzando la collaborazione con l'ex Rage Against The Machine, e mettendo assieme materiale di varia provenienza. Prince non vuole e non ha bisogno di spalle di quel livello, ma ha recuperato un po' delle cose incise e pubblicate con discontinuità negli ultimi anni, faticando a dare loro un'identità comune.
La percezione generale è che comunque questa volta l'album sia decisamente meno pasticciato del precedente volume, che sembrava più un mixtape che altro. Invece le 12 canzoni di "Phase two" hanno un suono più dritto, un mix tra rock e funk se vogliamo meno sperimentale e più ordinario dell'elettronica usata in dosi massiccie nella fase uno. Prince non rinuncia al vezzo di autocitarsi: in "Rock and roll love affair" compare il giro di tastiere di "Take me with U", in "Stare" la chitarra di "Kiss". Ma, al di là dell'autocelebrazione e del guardare più indietro che avanti, questi due brani rappresentano le anime dell'album: una più dritta, anche leggera, almeno musicalmente: "Baltimore", che nel testo invece parla degli abusi della polizia statunitense. E una più black, quella di "Look at me, look at u" ed "Xtraloveable".
Non ci sono grandi cadute di stile o momenti apertamente pacchiani, come nel "Phase one", ed è già una notizia: l'album, a patto di non aspettarsi chissà che, scorre via piacevole. Però ora parliamo di cose serie: quand'è che Prince tornerà a suonare dal vivo in Italia?
…..
HITnRUN Phase Two: il risveglio di Prince
39° album in studio e nuovo classico per il Principe del funk
HITnRUN Phase Two – Prince (NPG Records) – Voto: 9
Si dice che a Paisley Park vengano composte ogni giorno nuove canzoni. Non tutte però riescono ad evadere dalla dimora di Prince e a vedere la luce, anzi: la maggior parte di esse è destinata a riposare in eterno rinchiusa nel tanto celebre quanto mitologico "Prince's Vault", archivio segreto contenente migliaia di pezzi completi e non, la cui ubicazione è nota solo al prolifico musicista.
Per fortuna, secondo una logica imperscrutabile ai più, di tanto in tanto viene rilasciata nuova musica.
E così, a soli tre mesi dall'uscita del precedente disco, oggi possiamo ascoltare HITnRUN Phase Two, 39° album in studio per l'eccezionale polistrumentista e vero capolavoro funk/rock!
A suonare insieme a Prince e le 3rdeyegirl sono tornati i New Power Generation, e il loro apporto alle canzoni si sente tutto: le sonorità del disco riecheggiano le produzioni dei primi anni '90 e saranno una gradita sorpresa per gli estimatori di album storici quali Diamonds and Pearls e Love Symbol.
Circa metà delle tracce risulteranno familiari ai fan più fedeli, trattandosi di singoli pubblicati sul web negli ultimi tempi (il meno recente, XTRALOVEABLE, è del 2011), i quali però non potranno non esultare di fronte ai nuovi arrangiamenti ricchi di fiati incalzanti, presenza costante nell'intero LP.
Sebbene tutti i pezzi siano degni di menzione per ragioni diverse, ce ne sono alcuni che eccellono rispetto agli altri, tra cui l'open track BALTIMORE, canzone di protesta scritta in seguito ai sempre più frequenti omicidi di cittadini afroamericani avvenuti per mano di agenti di polizia ("Does anybody hear us pray for Michael Brown or Freddie Gray?"), la bass-driven STARE, dove è presente in veste di autocitazione il riff di apertura di Kiss, la preziosa GROOVY POTENTIAL e la supercoinvolgente ROCKNROLL LOVE AFFAIR, singolo del 2012 diventato fin dai primi ascolti uno dei miei brani preferiti.
Con HITnRUN Phase Two Prince regala al mondo un nuovo classico, dimostrando ancora una volta di essere all'altezza della propria leggenda: non fatevelo sfuggire!
Love, peace and soul
….
….
Prince torna a sorpresa sul web con un nuovo album: HITnRUN Phase Two
Una vera e propria sorpresa di Natale per tutti gli appassionati della bella musica: Prince è tornato protagonista con un nuovo album. Inaspettatamente, infatti, il genio di Minneapolis ha messo a disposizione dei suoi numerosi fan, in streaming su Tidal e in versione digitale su iTunes, HITnRUN Phase Two, la sua ultima fatica.
Seguito di HITnRUN Phase One, che era stato pubblicato lo scorso settembre, il disco contiene dodici tracce, tra inediti e singoli che non erano riusciti a trovare spazio all'interno dei suoi lavori passati. Uno di questi, Baltimore, uscito a maggio, è dedicato a Freddie Gray, il venticinquenne afro-americano residente nella cittadina del Maryland morto lo scorso aprile dopo essere stato posto in stato di arresto dalla locale Polizia.
Prodotto dalla sua NPG Records, casa discografica che il cinquantasettenne artista statunitense fondò nel 1993 in risposta alla chiusura da parte della Warner Bros. della Paisley Park Records, la sua precedente etichetta, HITnRUN Phase Two, che mescola sonorità rock, funk e R&B ed è il suo trentanovesimo album in studio, è stato realizzato con una registrazione di tipo analogico e con la collaborazione di una sezione di fiati di sedici elementi.
Prince – 'HITnRUN Phase Two'
The Purple One's second album of the year is loved-up, socially conscious and always entertaining
At 57, Prince is bulldozing towards his dotage, firing out whole albums in the time it takes Frank Ocean to approve a magazine cover. This is his fourth since last September's 'Plectrumelectrum'. He's in a (naturally) purple patch, in the prolific sense, and there have been hints he's shaken his creative malaise, with September's 'HITnRUN Phase One' reconnecting him with the funkiest (and occasionally crunkiest) essentials, if not always his superior sense of melody.
'Phase Two' is a different proposition. Pulled together over four years (and, in 1980s disco-jazz cast-off 'Xtraloveable', drawing on older material from the Paisley Park vaults), it reunites Prince with backing band The New Power Generation and his craftsman's way with a song. It's much warmer than 'Phase One', thanks to analogue recording equipment and Minneapolis brass crew Hornheads, as well as a desire to get romantic and not just plain dirty.
Dirty's always good, of course, although he could do with stronger lines than "It's all I can do not to feel myself when I look at you" on the otherwise classy jazz-funk of 'Look At Me, Look At U'. He gets lovey-dovey on accordion-tinged bluesy ballad 'When She Comes', which could fit into the second half of 1987's 'Sign 'O' The Times'. Echoing that album's title track, he re-engages with his social conscience on the affecting call-to-drop-arms of 'Baltimore', which mourns Freddie Gray who died in police custody in April after being arrested for possession of what was thought to be a switchblade.
Obviously, Prince has done better and he knows it – there's a cheeky sample from you-know-what just after he asks "Can I get a kiss?' on the well-oiled funk of 'Stare'; 'RocknRoll Love Affair"s horns ape the synth riff from 'Take Me With U' – but not in living memory. 'Groovy Potential' has a shimmering Stylistics lushness about it and feels like his purest pop song since 1995's 'The Most Beautiful Girl In The World'. Even finer is the epic 'Black Muse', shifting from joyous Sly & The Family Stone funk to Jackson 5 sunshine soul over seven giddy minutes. Where all this fits in the mesh of the Prince pantheon is anyone's guess, but it's in the good part, and after nearly 40 albums that's an achievement.
Prince: HITNRUN Phase Two first-listen review – organic funk meets risible ribaldry on his second album of the year
Prince released his second HITNRUN record of 2015 at the weekend, and while it's no Parade, there's plenty to please his fans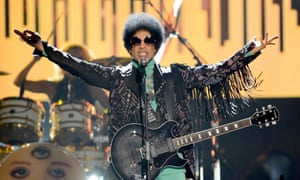 Will the real Prince please stand up? Oh, hang on, he already has.
It makes perfect sense – or, at least, as much sense as we're ever likely to get from Prince – that his latest album project comes in two instalments, the first released in September and its sister suddenly dropped on us unawares. He is, after all, a man of two halves.
Even the most casual Prince-watcher will know that the 57-year-old has conflicted, permanently flip-flopping views on the internet. One minute he's rhetorically asking Alexis Petridis to name one artist who got rich from the internet, the next he's enthusiastically tweeting a song by Sunderland indie band Field Music (whose work would surely never have reached his ears without the web).
No one knows quite what to make of him right now – least of all his own fanbase. To say that HITNRUN has divided opinion would be an understatement. Phase One was widely panned by Prince nuts, though not by me (I considered it to be possibly his most satisfying album since Lovesexy, which is the Prince equivalent of calling a Bowie album "possibly his best since Scary Monsters"). With Phase Two, the loudest complaint is that anything up to nine of the tracks have been out there for years, if you knew where to look.
This much, at least, is undeniable. HITNRUN Phase Two, like Phase One, is initially available only via Tidal, the streaming portal launched by Jay Z in March amid much superstar hullabaloo as a more artist-friendly alternative to Spotify, but at least three of the tracks – Baltimore, Rock and roll Love Affair, Screwdriver – have already been very public indeed, all released as singles in the last three or four years. Others have previously been dropped as exclusives on Spotify, iTunes and Prince's own 3rdEyeTunes site.
It would be completely wrong, however, to depict Phase Two as merely a grab-bag of odds and ends, recapping his greatest hits of the decade to date. That simply isn't how Prince works. His modus operandi, as explained by Prince biographer Matt Thorne in his doorstep-sized tome, is much more methodical. He'll record a handful of demos with a certain mood or theme which form the core of the album, then he'll dig back into his legendary vault of thousands of unreleased songsfor others that match them, and finally he'll write the three or four radio-friendly bangers for which the album becomes known.
His 39th, like its slightly older sibling, is no exception. The HITNRUN albums form a diptych of matching but opposing works. Taken together, they reflect the duality of Prince. Because, just as he loves/hates the internet, he loves/hates music technology. Phase One, unusually for someone not exactly famed for engaging with modern pop, made extensive use of Auto-Tune and some decidedly crunk beats (courtesy of co-producer Joshua Welton). Phase Two is entirely analogue, and far more organic in feel.
It's also his horniest album for years. Literally: a 16-piece horn section, comprising Prince's own NPG Hornz and Minneapolis's Hornheads, are parping away all over most tracks. With his rock trio 3rdEyeGirl put on hold and his many-membered funk troupe, New Power Generation, brought back in, it's inevitably a more maximalist affair than anything he's done in a while.
The one thing the two HITNRUN records have in common is their fondness for referring to Prince's past. Phase One kicked off with sampled snatches of his classic hits, and Phase Two is dotted with references, some more obvious than others.
Rock and Roll Love Affair, a barely veiled religious message wrapped up in a romance, is the most blatant, directly lifting the synth riff from Purple Rain's Take Me With U, and even the way he phrases the line "That's when the stars collide" consciously echoes "That's when I saw her …" from Raspberry Beret. Extraloveable, a jubilantly shag-happy groover ("Remember whenever you need someone to take a shower with, call me up, please …") originally written for his protegées Vanity 6 in 1982, begins with a split-second throwback: the stab of synth-horns at the start is clearly meant to make us think of 1981's Controversy. And Stare even daydreams about the Dirty Mind/1999 era: "We used to go onstage in our underwear …"
The album begins with Baltimore, written in direct response to civil strife in America. Built around a guitar motif reminiscent of Thin Lizzy's Sarah, it paraphrases Ice Cube ("Nobody got in nobody's way / So I guess you could say it was a good day"), quotes Spinoza ("peace is more than the absence of war"), invokes the "No justice, no peace" chant, and names Michael Brown and Freddie Gray, African-Americans who died at the hands of the police. However, unlike the apocalyptic and similarly themed Hell You Talmbout by Prince's friend Janelle Monáe, the atmosphere here is sunlit, Aquarian and idyllic. Baltimore could comfortably sit among the hippy-dippy positivism of 1985's Around the World in a Day album.
Like Sign o' the Times before it, however, this politicised prelude is deceptive. On the brassy second track, 2 Y 2 D ("too young to dare"), Prince is a randy old dog fantasising about a perfect young lust object who has a "head full of technology" but is "just enough old-school". His lust leads him astray into one of his naffest lyrics in recent memory: "Internet beauty, everybody wanna hack her."
However, on Look At Me, Look At U, an exquisite piece of night-time penthouse jazz-funk in a George Benson vein, it also leads him to a line that has your jaw hanging open, wondering whether it's OK to laugh, as he salutes a beauty that "even Ray Charles can see, Stevie Wonder can too".
Even more bizarre is the moment in When She Comes, an accordion-laden waltz-time ballad in which Prince refers to "a limoncello ballet, a psychedelic cabaret" – surely the only mention of Italian after-dinner liqueurs in his oeuvre to date. The poorest track is probably Screwdriver, a chugging pop-rocker that's as subtle as a Dapper Laughs seduction gambit: "I'm your driver, you're my screw." The forgettable Groovy Potential, too, could perhaps have been left in the vault, cheesy title and all.
These weaknesses are more than made up for by Black Muse, an exhilaratingly, effortlessly free-and-easy Earth Wind & Fire-style gem that reminds you Prince is the most uncannily gifted musician alive. And, above all, by the penultimate track. The stunning six-minute Revelation comes on like a super-slow sex jam in the Smokey Robinson/Marvin Gaye Quiet Storm genre, although it's initially uncertain whether he's addressing his lover or Jehovah. In its closing monologue, however, all becomes clear: after making cryptic rhyming reference to English witchcraft and Hebrew, Greek, Roman and Pharaonic mythology, he concludes: "But the task at hand until we see the sun / Is to keep doing you, until you come … to Revelation." Prince, in a nutshell: even when his head is in the clouds, his brains are in his underpants.
The album ends with Prince at his most divisive. Big City is a typical NPG party jam, in which the backing singers and horn section get to showcase their chops at great length, until the man himself steps up and yelps "Where's my guitar?" Like the Sign o' the Times song It's Gonna Be a Beautiful Night, it's exactly the kind of thing that some Prince lovers adore, and usually has me hailing a taxi.
Split fans, split albums, split personality. As anyone who remembers the trouser-endangering terpsichorean skills he displayed in his youth will already be aware, if there's one thing Prince knows how to do, it's splits.
Prince is back, as funky and contradictory as ever
We're really not worthy. Or if we're worthy, we're barely so.
On Saturday, with no advance warning, Prince dropped his second album in six months.
"HITNRUN Phase Two" (NPG Records) followed September's "Phase One" straight to Tidal, the Jay Z-authored streaming site said to be the most artist-friendly of the bunch. Now, you can stream or download the two-part album the way Prince and whatever deity you believe in intended – as a single entity comprising, much like the man himself, contradictory views on almost everything.
Prince hates technology; Prince loves technology. Prince is seeking something spiritual amidst a cultural landscape that is much more Kardashian than Krishna; Prince just wants to steal your girlfriend and teach her something about carnal revelry. Prince is a master of old school analog funk; Prince splashed auto-tune all over "HITNRUN Phase One."
These philosophical dichotomies form  part of what makes Prince one of the most interesting artists of the past 35 years. The other part is his prodigious talent – as a musician capable of killing it on multiple instruments, as a songwriter, as a producer, as a bandleader, as a dancer, as a man who takes to the stage and does all of these things at once.  Critics and over-zealous fans might want to suggest that Drake, or Timberlake, or even Kendrick are the equivalent of Prince, but let's face it, such arguments could be diffused immediately if one simply handed a guitar (or one of several other instruments) to Drake or Timberlake or Kendrick and asked them to play a solo like Prince. It ain't happening.
Prince does have musical peers, though most of them are either deceased or older than he is – think Stevie Wonder, Marvin Gaye, Donny Hathaway, Parliament Funkadelic – or have left pop behind altogether in favor of more jazz-inflected fusions. When it comes to music that might be considered mainstream R&B, Prince is on his own these days. At 57, he still has full possession of his agile singing voice, and he continues to dazzle as an instrumentalist. He also manages to sound contemporary, without expending much noticeable effort.
So "HITNRUN Phase Two" arrives without ceremony, which seems almost insulting, really, especially once you've spent some time with it, and realized that it's made up of high-level Prince music. If an artist with his talent, pedigree and proven track record needs to pull a surprise attack as a way of generating the publicity that record labels used to consider it their job to generate, well, this somehow seems unjust. Shouldn't a new release from one of our most significant artists be a bigger deal than, say, the absurd You Tube video for the new Psy single?
Whatever.
As he always has, Prince came to play, and he plays up a storm throughout "Phase Two," flexing his songwriting muscle on tunes that run the gamut from psychedelic soul-pop to grinding funk, softly-lit and sexy R&B to horn-driven hot buttered soul.  It's top-tier Prince fare – even relative throwaway pieces like "Screwdriver," a salacious slab of pop-funk that would not have been out of place as a "Purple Rain"-era B-side, is still a more finely-crafted affair than the majority of tracks you'll find at the top of Spotify's hit-list.
The album begins with its only political/social criticism piece, in the form of "Baltimore," a song that focuses on the riots in that city following the deaths of African Americans Freddie Gray and Michael Brown at the hands of police. Prince attempts to aim some sunlight toward this American tragedy, dressing "Baltimore" in trippy psychedelia and soothing tonal colors, but the "no justice, no peace" message still burns through.
"Baltimore" is gauzy and beautiful, which is remarkable, given the true horror behind its inspiration. But "Phase Two" hits its peak later on, with the one-two punch of "Black Muse" and "Revelation," a combined 13 minutes of music that ranks amongst this prolific wunderkind's finest. The former is a filthy funk workout that quotes both early Prince and prime period Earth Wind & Fire, but beneath its groove-based veneer is a paean to African American fortitude: "Black muse/We gonna' make it through/Surely people that created rhythm and blues/Rock 'n Roll and Jazz/You know we're built to last/It's cool," Prince sings, female backing vocalists joining him in harmony. Three minutes in, the song evolves into a spacious jam with jazzy piano figures sprinkled around horn section stabs and the sort of sophisticated funk that Herbie Hancock was dealing with in the mid '70s.
"Revelation" is a slow-boiling ballad with a Philly Soul heart, bolstered by a bravura vocal performance and a classic Prince sexuality/spirituality double entendre at its center.
Together, these two pieces represent the sound of Prince leaving the competition a few miles behind, choking on his dust.
So is "Phase Two" as great of an album as, say, "Sign O' the Times," "Lovesexy" or "Purple Rain"? I might tell you yes, indeed it is, but how would you really know? Those earlier efforts came out during a time when albums meant something. Now, as great as it is, this two-part Prince masterpiece is just another teardrop in an ocean, a collection of sounds that will be given no more credence as a unified statement than will a Spotify playlist curated by Joe or Jane Everyman. And that's nothing but a shame.
When it comes to music, democracy has its limits. Not everyone is equally talented or worthy of our time and attention. Prince is far more worthy than most. This is fact. Not speculation.
….